Modern blow molding is a largely automated process. Automatic hollow blow molding is a rapidly developing plastic processing method. Yankang Plastic Machinery has more than 20 years of R&D and production experience to make automatic hollow blow molding machines for various industrial applications. What are the advantages of Yankang machines? Read on to find it!
1, Advanced technology, Stable performance
Use imported original electrical components from Japan, the USA, and Germany to ensure the high-speed, safe and stable operation of the equipment and reduce the failure rate. The most important one is that the complete set of original SIEMENS control systems has after-sales international services. At the same time, make use of the America MOOG Wall Thickness Controller to guarantee the wall thickness is more uniform.
2, High Intelligence, Convenient Operation
Easy to operate, adopt a variety of automation devices, with simple structure and small footprint. Control Panel uses the advanced PLC color control touch screen. It can store all kinds of different production-blowing process parameters. Just set the relevant parameters of the product before production, and the machine can automatically enter the production state. Most workers will be able to operate without any special training because all operational instructions are visible at a glance.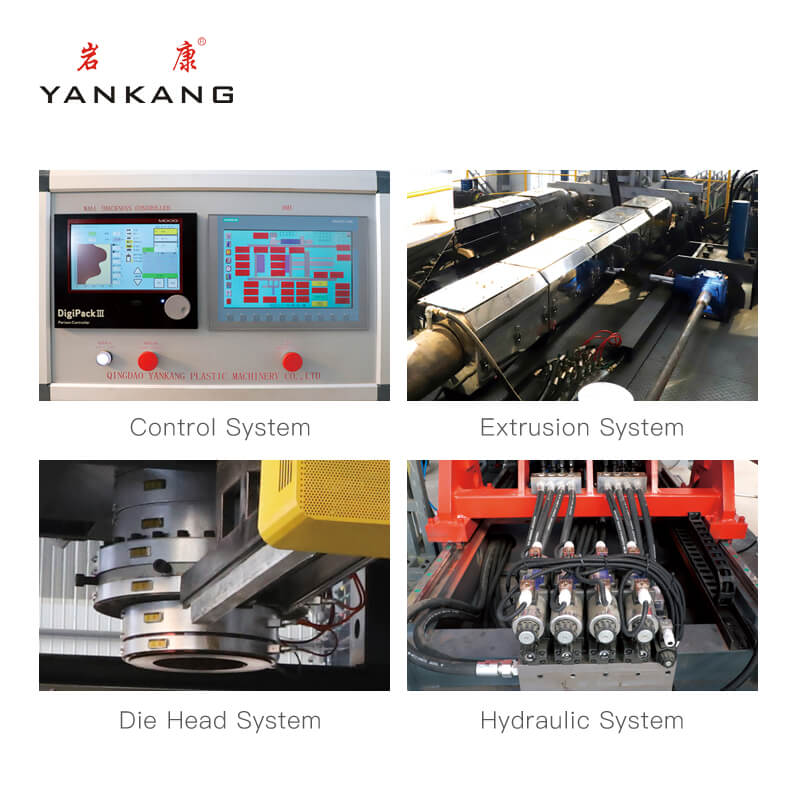 3, High Security, Low cost
Due to the simple operation of the automatic hollow blow molding machine, it doesn't require a lot of manual intervention to ensure the safety of workers, can effectively avoid the danger of semi-automatic manual product taking, and reduce the company losses caused by accidents.
On the other hand, perfect monitoring and sensing system has trouble diagnosis functions that can always monitor the production situation of the equipment. 1-2 people can complete the production process without consuming a lot of labor and time.
4, Saving Energy and Protecting Environment
Adopt Electromagnetic Induction and Infrared Heating Systems. Compared with traditional resistance heating, the heating speed is faster, the heat transfer energy consumption is lower, and the performance is more stable. It can save 40% to 50% of energy. What's more, Using a more safe and more efficiently Servo-hydraulic System saves energy by more than 40% and reduces noise.
5, High Productivity, Good Quality
Adopt pressurized cylinders to optimize the structure of the machine, and increase productivity while providing a more powerful clamping force. Yankang automatic hollow blow molding machine can produce 18-20 large-size multi-layer plastic water tanks per hour on average.
Using a more efficient and energy-saving IKV screw makes the plasticizing capacity about 1.5 times faster than the normal screw. A highly precise blow-mold closing system ensures quality, so that product quality is better, higher strength, more stable performance, and longer service life.
 6, Wide Applications
Yankang is a professional leading multi-layer manufacturer of the blow molding machine, not only producing 200L-20000L large plastic water tank automatic extrusion hollow blow molding machines but also providing customers with various customized blow molding machine equipment.
Yankang blow molding machine has wide applications. Including IBC tank, plastic pallet, double ring chemical tank, road barrier, septic tank, kayak, Floating Dock, Medical Bed Board, PP Solar Tank, and other plastic blow molding products. It only needs to simply replace the mold, a new blow product comes into being.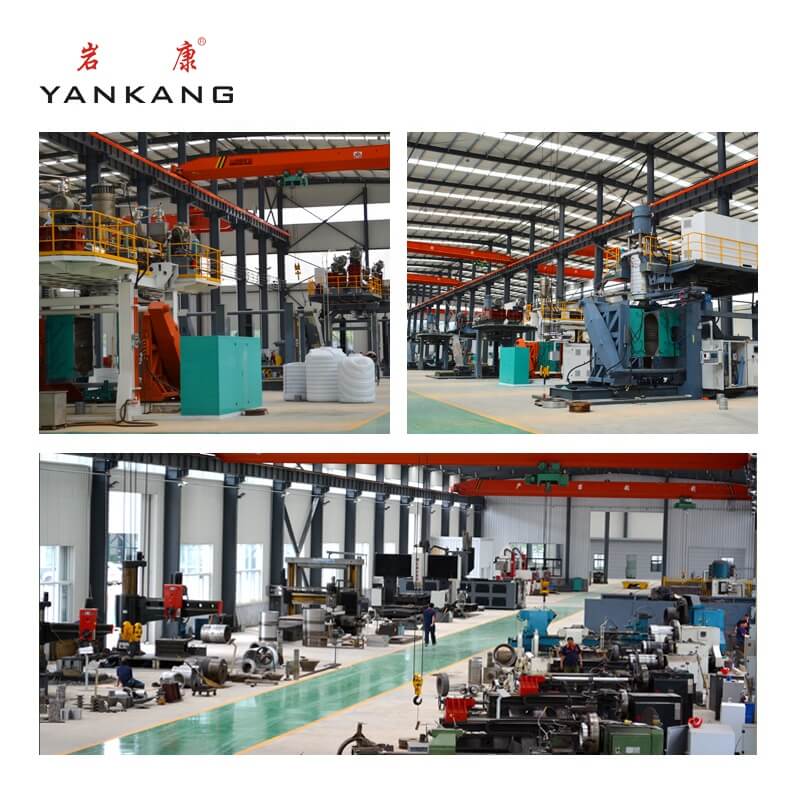 7, Automation Design
The automatic mold change equipment is the latest developed technology. Yankang applies it to the super large blow molding machine over 10000L. It's easier and safer to change molds. Besides, the safety door closes automatically when the mold is closed to ensure the safe running of the machine.
The first realize One Mold with Two Cavities Design in large mold production that improves productivity greatly. Received praise and approval from customers at home and abroad.
8, Independent Innovation
In the past 20 years, Yankang Plastic Machinery has exported its blow molding machine to more than 45 countries and regions. They have industry-leading technology research capability, excellent engineers, and advanced equipment. The 25000L-4 layers blow molding machine independently developed by themselves is the world's largest blow molding machine.
What's more, the"multi-layer die head" and "Foaming Technology" self-developed by Yankang have been successfully applied in the production of the multi-layer extrusion blow molding machine. Yankang has 28 patents, ISO 9000, CE, SGS, and many excellence certifications.
9, Perfect Service System: Training & Installation & Adjustment
In pre-sale service, Yankang provides personalized service of customized machines, not only including machine, mold, and auxiliary selection but also water, electrical, machine layout in the factory, etc.
In sales, provides free training services for customers, and dispatches the technical engineer to install and adjust the machine according to the needs of customers.
The after-sale quality guarantee time is one year. During the guaranteed time, provides remote service online and machine maintenance on site. Thanks to the best after-sales service, Yankang machines have numerous repeated orders from customers.
All in all, there are several advantages of Yankang automatic hollow blow molding machine. This machine is a great choice for manufacturers that want to control their production costs while increasing sales and profitability.
。