Mobile Toilet Blow Molding Machine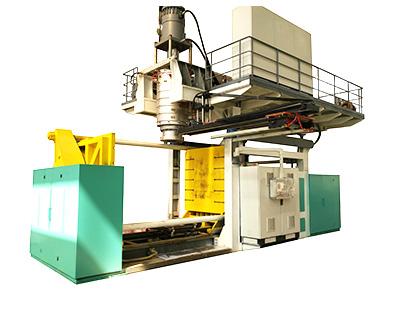 In order to ensure that the products are better adapted to the market and expand the market scale, the Yankang team continues to meet the challenges and continue to innovate and improve the blow molding machine technology.
On this basis, new blow-molded new products have been developed, such as canoes, solar inner, mobile toilet, floating solar, floating dock, and septic tank blow molding machines, and so on.
Applications of Mobile Toilet Blow Molding Machine

Configuration of Mobile Toilet Blow Molding Machine
①Technical data for YK mobile toilet series
Technical Data for YK Mobile Toilet Series
Model No.
YK 5000L-2
YK 5000L-3
YK 5000L-4
Specifications
3 layers
3 layers
4 layers
Extruders
Screw Diameter
∮125/125
∮110*3
∮100*4
Motor
132/132kw
110*3kw
75*4kw
Plasticizing Capacity
700kg/h
750kg/h
800kg/h
L/D
35/1
32/1
32/1
Max Screw Speed
50RPM
50RPM
50RPM
Die Head
Accumulator Capacity
180L
180L
190L
Heating Load
118kw
125kw
134kw
Max. Parison Weight
150kg
150kg
160kg
Clamping Unit
Clamping Platen Size
2400*2600mm
2400*2600mm
2400*2600mm
Max Mould Size
2350*2800mm
2350*2800mm
2350*2800mm
Clamping Force
3500 KN
3500 KN
3500 KN
Mould Thickness
1550-2200mm
1550-2200mm
1550-2200mm
Hydraulic System
Hydraulic Drive Motor (Main)
80kw
80kw
80kw
Hydraulic Drive Motor (Parison Control)
11kw
11kw
11kw
Oil Tank Capacity
1500L*2
1500L*2
1500L*2
Machine Weight
120 Ton
150 Ton
180 Ton
Dimension
L x W x H
15m*13m*8.5m
15m*13m*8.5m
15m*13m*8.5m
Total Power
580kw
660kw
666kw
Average Power Consumption
298kw
332kw
385kw
②Leading International Technology
For example:
Use original SIEMENS control systems. Guarantee high quality, safe and stable operation. At the same time, it provides after-sales international services.
For more advanced configurations, please refer to the following figure.
| | | | |
| --- | --- | --- | --- |
| SR | Description of Parts | Brand | Origin |
| 1 | PLC | SIEMENS | Germany |
| 2 | Touch Screen | SIEMENS | Germany |
| 3 | Inverter | SIEMENS | Germany |
| 4 | Screw Motor | SIEMENS | Germany |
| 5 | Air Switch | SIEMENS | Germany |
| 6 | Contactor | SIEMENS | Germany |
| 7 | SSR(Solid State Relay) | CARLO GAWAZZI | Switzerland |
| 8 | Wall Thickness Controller | MOOG | USA |
| 9 | Servo Valve | YUKEN | Japan |
| 10 | Hydraulic Valve | YUKEN | Japan |
| 11 | Solenoid Valve | YUKEN | Japan |
③Multi-layers Die Head Technology
First, the multi-layer mold design makes the wall thickness uniform and stable. Second,  it can increase production efficiency by 5 times. Finally, the utilization rate of recycled materials increased by 4 times.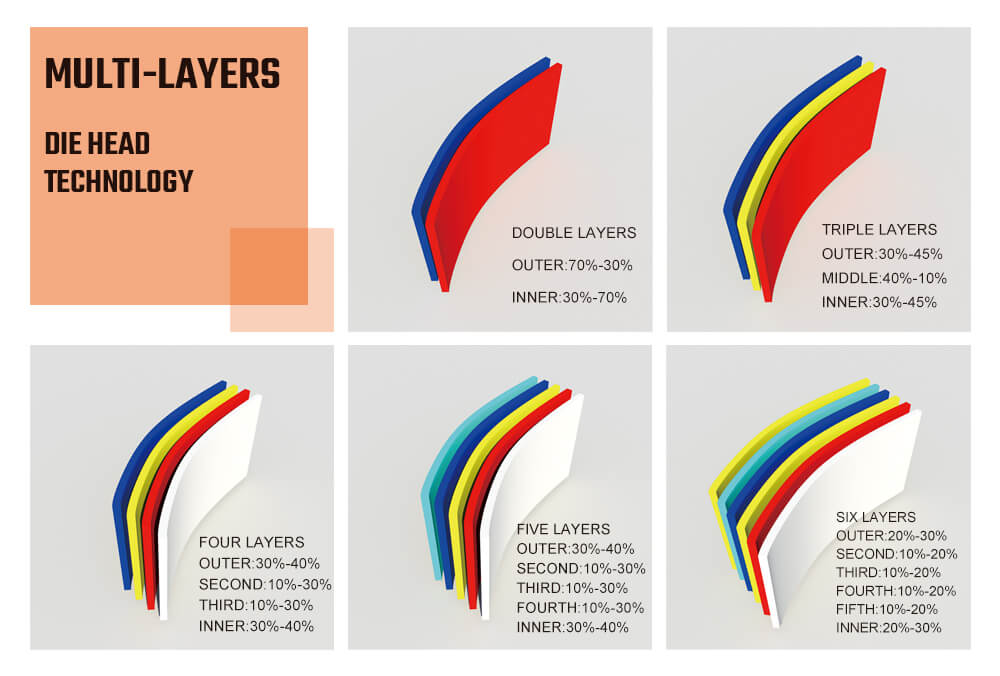 Customer Service
①Training
The buyer could dispatch their operators to the seller's factory for training, including machine operation, maintenance & simple repairs;
Or against the requests of the buyer, the seller's technician could train the buyer's operators in the buyer's factory in the periods of installing & adjusting;
②Installation & Adjustment
The seller could dispatch an engineer against the requests of the buyer to install and adjust the machines for one week(free of charge) in the buyer's factory. After one week, if the buyer still needs the training,$100 should be paid to the engineer.
The buyer should make a reservation in advance before the delivery of the machines;
The buyer should pay for the engineer's food & board while installation in the buyer's factory. And the buyer should also pay for the air ticket for the engineer.
③Guarantee
The guarantee time is 1 year after the machines normally work in the buyer's factory if only the problem is caused due to quality control or any reason by the seller. We will supply replaced parts free of charge and our engineers will guide you on how to solve the problems.