Do you know about custom blow molding machine?
Here is a detailed guidance about What, Why, How of it.
With the development of blow molding technology, blow molding products get more wide use.
The customer's need is also getting higher and higher.
At the same time, there are many different specifications demand to blow molding products.
According to different products requirements, custom blow molding machine appears .
What is custom blow molding machine?
In short, custom blow molding machine is according to different products standard and produce the mold and machine.
So what are the aspects of custom blow molding machine?
Custom blow molding machine is based on the different types of products to produced.
Different product, customization plan are also different.
Yankang as leading manufacturer, we devoted to improve products quality all the time. At the same time, it provides complete blow molding customization service.
Common Water Tank
The common water tank generally have vertical tank and horizontal tank.
Except for shape difference, there is also capacity difference.
We can provide custom blow molding machine and blow molding mold according to customer's demand.
Other Blow Molding Products
IBC Tank, Plastic Pallet, Double Ring Drum, Floating Dock, Road Barrier, Kayak, Septic Tank, Solar Inner and so on.
This is the blow molding machine that Yankang Plastic Machinery can provide at present. More types of blow molding machine will be developed in the future.
The above blow molding products are special shape products for special use. Production is different from common water tanks.
And the specification of these products is more diversified. Different country has different standard.
To cater to the needs of customers and market. We can provide suitable blow molding machine and mold according to customer's requirements.
Besides, we support Logo customization service as well.
During mold production,the logo that provided by customer will engrave on the inner mold.
The final products with logo.
How to ensure the quality and performance of custom blow molding machine?
Actually, it's the best way to finish all parts of blow molding machine production by the same team. Including installation and testing.
But most manufacturers can't finish it because limited by fund, technology, experience and other aspects.
They'll choose the part that they're best at to finish. And find another manufacturer to finish other parts.
Finally, install all parts together.
That's not bad. The advantage of doing so is to maximize the integration of the strengths of each manufacturer. You think it's possible to achieve the best result of blow molding machine.
But, there is a certain disadvantages for blow molding machine by different team.
The ideas and thoughts of every team is different.
Although the each machine part can up to great effect, the combination may not do it.
Because all parts of blow molding machine need to cooperate with each other in operation.
It's difficult for machine to achieve the best effect to be use with different parts.
Thus, if you want a custom blow molding machine, keep in mind, choose a reliable manufacturer. It's the best way.
Yankang Plastic Machinery focus on high quality blow molding machine.
Except blow molding machine, we are also able to finish the blow molding molds by ourselves.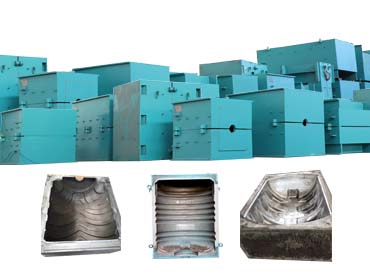 The blow molding machine mold plays an important role in production.
We can provide relevant mold according different product standard.
We can provide auxiliary machine as well.
The blow molding machine consists of pneumatic system,hydraulic system,cooling water system,circuit system and auto loader system.These include cooling chiller,cooling tower,air compressor, grinder, shredder, air tank, mixer and so on.
Our engineer will make economical and effective machine plan for customer. And choose the suitable auxiliary machine and mold to meet the needs of customer.
Custom blow molding machine is a better service. It's cater to the development of market and meet the diversified needs of customer.
The particular note is that if you plan to choose blow molding machine customization. You should consider the manufacturer's service combine with our own needs comprehensively. Choose the most suitable customization plan. In this way, blow molding machine can up to the ideal effect that you expect.
Click to learn more information about Blow Molding Machine.
Hope To Help You.
Thanks For Reading.