In 2016, Qingdao Yankang Plastic Machinery Co., Ltd independently innovated and developed a large-scale multi-layer hollow plastic blow molding machine production line to obtain the honorary title of "Invisible Champion" enterprise of the first Qingdao industrial SME.
The so-called "invisible" refers to the small scale of the enterprise. It is still a small and medium-sized enterprise. And it is not well known in the public view. The so-called "championship" means that the enterprise has a strong influence and competitiveness in the domestic and global markets. In recent years, Jiaozhou has insisted on supporting private enterprises to become bigger and stronger as the key to improving the economic operation efficiency, and actively guided enterprises to take the road of "specialization and innovation".
As a professional manufacturer of large-scale plastic machinery over 10000L, Qingdao Yankang Plastic Machinery Co., Ltd. has continuously increased the research and development of high-precision technologies to produce the largest and most technologically advanced 20000L ultra-large blow molding machine equipment in the world. And it has caused the extensive concern of the international market. Previously, China's technology could only produce blow molding machines below 3,000 liters. If the traditional technology is used to develop 5000-10000 liters of multi-layer equipment, the old-fashioned head design can not complete the blow molding process.It has become the bottleneck of large-scale blow molding technology.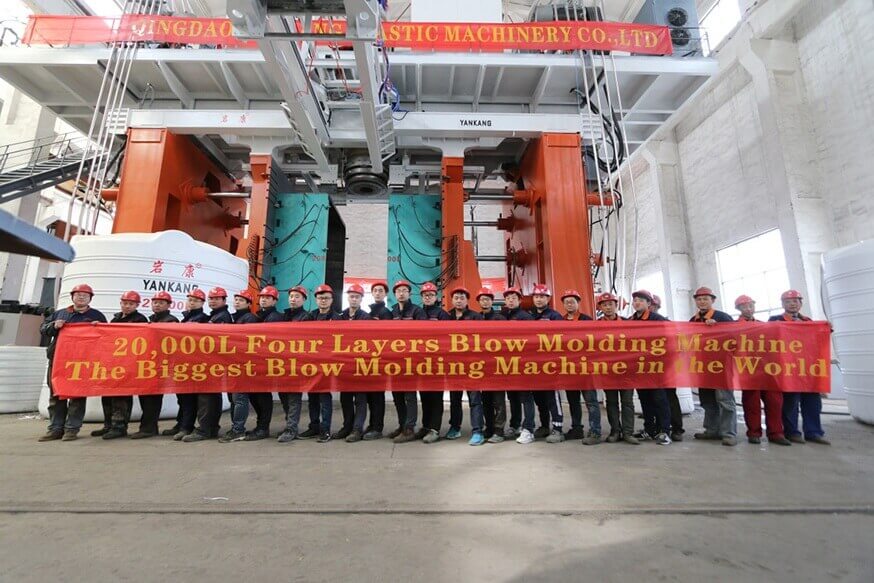 In order to break the price monopoly of foreign companies and to fill the gap in domestic technology, under the leadership of Chairman Yankang, the entire company's technical R&D personnel went all out to devote themselves to research. In nine months, it successfully broke through the technical bottleneck. In 2015, the world's first 20000L super-large blow molding machine was successfully launched .And It became a truly "big thing" in the field of blow molding machines. The project applied for one national invention patent and nine utility model patents, one domestic and foreign scientific research report, and one state-level scientific research achievement.
Now, Qingdao Yankang Plastic Machinery Co., Ltd. has successfully occupied the world's major markets. With excellent quality assurance and perfect after-sales service, it has won high praise from customers at home and abroad. The company's products have spread to 45 countries and regions.These include Southeast Asia, the Middle East, Europe, the Americas, Australia, and Africa. It has become the well-deserved "leader" in the blow molding machine industry in China. And it is a veritable "Invisible Champion".